NETWORKING IS ONE OF THE EFFECTIVENESS FORM OF THE INTERNATIONAL RESEARCH. SOME ASPECTS
Eugenia Smyrnova-Trybulska

University of Silesia, Katowice
Анотація
Today the Internet has become an effective environment for conducting joint research and exchange of experience in smaller and larger international teams.
This article presents some contemporary trends and overview a several Internet services, such as ResearchGates, Google Scholar, LinkedIn, Viadeo, which are gaining more and more popularity among scientists; furthermore, several factors contributing to this development are discussed. International research network IRNet is one of the good example of international cooperation, exchange of experience and joint collaboration and research, which effectiveness supported by Internet network services.
Завантаження
Дані завантаження ще не доступні.
Посилання
Andersson, Å.E. & Wichmann Matthiessen C. (1993). Øresundsregionen. Kreativitet, Integration, Voekst. Copenhagen, Munksgaard
Andersson, Å.E. & Persson, O. Ann Reg Sci (1993). The Annals of Regional Science, Networking scientists Vol 27, Issue 1, 11–21 doi:10.1007/BF01581830
Castells, M. (2008). Network Society, PWN, Warszawa
Celoch, H. (2010). Google Scholar alternative to Web of Science. Attempt to compare both tools for citation analysis. August 14, 2017 http://eprints.rclis.org/15177/1/katowice.pdf
Colace, F., De Santo, M. & Greco, L. (2013). A probabilistic approach to Tweets' Sentiment Classification Book Group Author(s): IEEEConference: 5th Biannual Conference of the Humaine-Association on Affective Computing and Intelligent Interaction (ACII) Location: Geneva, SWITZERLAND Date: SEP 02-05, 2013 Book Series: International Conference on Affective Computing and Intelligent Interaction, 37-42
Elsner, D. (2013). Collaboration and Self-Training Networks. Theory and Practice/, Wolters Kluwer, Warszawa
Grissa, K. (2016). What makes Opinion Leaders share Brand Content on Professional Networking Sites (e.g LinkedIn, Viadeo, Xing, SkilledAfricans..) Edited by: Chaabouni, RJ; Nasraoui, O; Tobji, MAB; et al. Conference: 1st International Conference on Digital Economy (ICDEc) Location: Carthage, TUNISIA Date: APR 28-30, 2016 Sponsor(s): IEEE; ATEN 2016 International Conference on Digital Economy (ICDEc), 8-15
Issa T., Isaias P., Kommers P. (eds) (2016). Social Networking and Education Global Perspectives. Springier
Janakova, M. (2016). Education in Computational Science: Do Successful Examples Also Create Success in Education? Book Group Author(s): Soc Digital Informat & Wireless Commun Conference: 3rd International Conference on Computer Science, Computer Engineering, and Education Technologies (CSCEET) Location: Lodz, POLAND Date: SEP 19-21, 2016 Sponsor(s): CSCEET; SDIWC; Lodz Univ Technol THIRD INTERNATIONAL CONFERENCE ON COMPUTER SCIENCE, COMPUTER ENGINEERING, AND EDUCATION TECHNOLOGIES (CSCEET2016), 25-31 Published: 2016
Jeng, W., DesAutels, S., He, DQ & Li, L. (2017). Information Exchange on an Academic Social Networking Site: A Multidiscipline Comparison on ResearchGate Q&A JOURNAL OF THE ASSOCIATION FOR INFORMATION SCIENCE AND TECHNOLOGY, Volume: 68 Issue: 3, 638-652
Kulczycki, E. (2013). How to add work to Google Scholar and increase citations and Hirsch index. August 14, 2017, http://ekulczycki.pl/warsztat_badacza/poradnik/
Lipovsky, C. (2015). Gender specification and occupational titles: An investigation of French women's CVs SOCIOLINGUISTIC STUDIES, Volume: 9, Issue: 1, 93-113
Łobejko, S. (2010). Enterprise network conditions change and strategy in the XXI century, Oficyna Wydawnicza SGH, Warszawa
Lopez, S., Gerardo, L., Freire, M. & Leonor, E. (2015). Social Networks an Alternative to Marketing in SMEs REVISTA PUBLICANDO Vol. 2, Issue: 4, 111-121
Manca, S. & Ranieri, M. (2017). Networked Scholarship and Motivations for Social Media use in Scholarly Communication INTERNATIONAL REVIEW OF RESEARCH IN OPEN AND DISTRIBUTED LEARNING, Volume: 18, Issue: 2, 123-138 Published: APR 2017
Morze, N., Varchenko, L. & Smyrnova-Trybulska, E. (2015). Ways of formation of effective students' collaboration skills based upon the usage of WBT, Int. J. Web-Based Communities, 2015, Vol. 11, №1, 25-41. DOI: 10.1504/IJWBC.2015.067085 Retrieved from http://www.inderscience.com /info/inarticletoc.php?jcode=ijwbc&year=2015&vol=11&issue=1
Nicholas, D., Clark, D. & Herman, E. (2017). ResearchGate: Reputation uncovered. LEARNED PUBLISHING, Volume: 29, Issue: 3, 173-182
ResearchGate. Professional Network for Scientists August 14, 2017, http://www.ptchem.lodz.pl/pdf/rg1.pdf
Smyrnova-Trybulska, E. (2013). E-learning & Lifelong Learning, University of Silesia, Studio-Noa , ISBN 978-83-60071-66-3
Smyrnova-Trybulska, E. & Żebrok, P. (2015). On Networking. The Analysis of Selected Aspects. 'International Journal of Research in E-learning'. Vol. 1, Issue 2, 47-69. ISSN 2451-2583 (Print) ISSN 2543-6155 (Online)
Stępka, P. & Konrad, S. (2009). Application of SNA in building an organization based on knowledge/, E-mentor No 1 (28)/2009
Tran, C.Y. & Lyon, J.A. (2017). Faculty Use of Author Identifiers and Researcher Networking Tools COLLEGE & RESEARCH LIBRARIES Vol. 78, Issue: 2, 171-182
Żebrok P. (2014). Information and communication overload in organizations – the case of educational institutions/, In: A. Wziątek-Staśko (ed.) Human Capital in the Face of Modern Challenges/, WSB Dąbrowa Górnicza
Żmijski J. (2013). Network as a social phenomenon of modern times, In: D. Elsner, Collaboration and Self-Training Networks. Theory and Practice, Wolters Kluwer, Warszawa 2013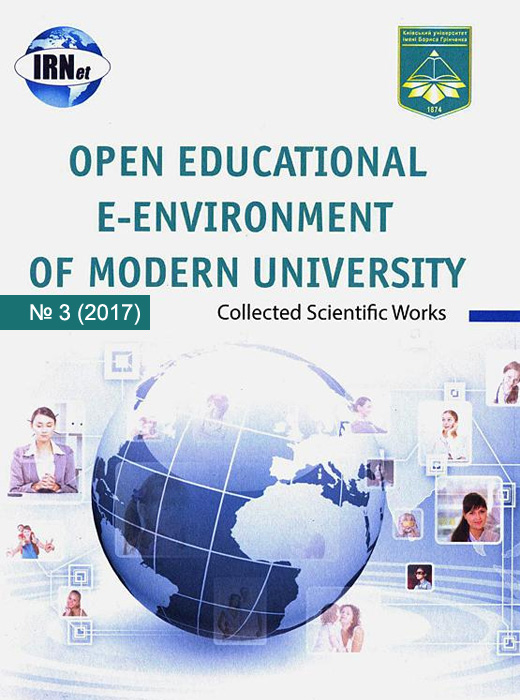 Переглядів анотації: 437 Завантажень PDF: 436
Як цитувати
Smyrnova-Trybulska, E. (2017). NETWORKING IS ONE OF THE EFFECTIVENESS FORM OF THE INTERNATIONAL RESEARCH. SOME ASPECTS. Електронне наукове фахове видання "ВІДКРИТЕ ОСВІТНЄ Е-СЕРЕДОВИЩЕ СУЧАСНОГО УНІВЕРСИТЕТУ", (3), 130-139. вилучено із https://openedu.kubg.edu.ua/journal/index.php/openedu/article/view/77
Розділ
Open educational e-environment of modern university