IMPLEMENTATION OF SPECIFIC DIDACTIC PRINCIPLES IN COMPUTER-ORIENTED LEARNING ENVIRONMENT
Dmytro Kasatkin

National University of Biotechnology and Environmental Sciences of Ukraine

http://orcid.org/0000-0002-2642-8908

Olga Kasatkina

National University of Biotechnology and Environmental Sciences of Ukraine
Анотація
The article deals with the specific principles and specific features of perception of information in computer-oriented learning environment and peculiarities of the information assimilation, depending on the form of educational material presentation. We describe the psychological and physiological aspects of perception in the visualization of its submission. And as pointed out, process of perception of the information in computer-oriented learning environment is faster and easier. There is also outlined author's definition of the concept of computer-based learning environment, the system, which is an open education environment of the modern university.
Завантаження
Дані завантаження ще не доступні.
Посилання
Bykov, V. (2009). Innovative development of society and the modern network technologies of open education. Problems and prospects of forming a national humanitarian-technical elite:: P78 zb. nauk. Prats. №23-24 (27-28), 24-49. (in Ukrainian)
Yevdokymov, O. (1997). New pedagogical technologies of teaching students. Dys. kand.ped.nauk, 13.00.01 Kh., 312p. (in Ukrainian)
Kasatkin, D. (2011). Principles profile information and educational learning environment. Naukovyi visnyk NUBiP Ukraine, 159(2), 330-336. (in Ukrainian)
Kulyk, E. (2003). Designing ynformatsyonnoy obrazovatelnoy environment and personality Lecturer. http://ito.edu. №7003/1/3/1-3-2289.html (in Russian).
Morze, N. & Glazunova, O. (2012). Methods of creating e-learning courses. Navch. Posibnyk, 247 p. (in Ukrainian)
Solso, R. (2011). Cognitive psychology. 6-e uzd, 589 p. (in Russian).
Rashkevych, Yu., Ovsiak, V., Nizolek, M. & Petrushka, Yu. (2011). Model GUI settings by composite of uniterm. Kompiuterni nauky ta informatsiini tekhnolohii: zbirnyk naukovykh prats, 151-154 (in Russian).
Yefimenko, V. (2002). Pedagogical bases of development of the project-program the information environment of higher education institutions http://www.ito.su/2002/IV/IV-0-136.html. (in Russian).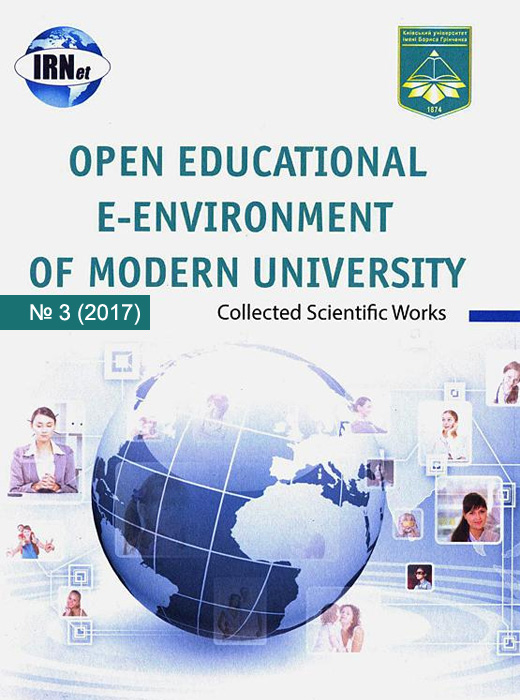 Переглядів анотації: 329 Завантажень PDF: 203
Як цитувати
Kasatkin, D., & Kasatkina, O. (2017). IMPLEMENTATION OF SPECIFIC DIDACTIC PRINCIPLES IN COMPUTER-ORIENTED LEARNING ENVIRONMENT. Електронне наукове фахове видання "ВІДКРИТЕ ОСВІТНЄ Е-СЕРЕДОВИЩЕ СУЧАСНОГО УНІВЕРСИТЕТУ", (3), 69-74. вилучено із https://openedu.kubg.edu.ua/journal/index.php/openedu/article/view/70
Розділ
Open educational e-environment of modern university