IMPACT OF ICT ON LABOR MARKET DEVELOPMENT: MAIN TRENDS AND PROSPECTIVES
Анотація
The level of intellectual activity in developed countries gives evidence concerning innovative economy formation and relevant employment model. The similar trends are being observed in Ukraine. Benefitting from the advantages existing and removal of key curbs regarding ICT introduction are of the actual importance in this country. The active participation of the state in gaining the true balance between technologies development and creation of proper conditions for market gears operation as well as favorable regulatory environment formation will favor ICT development in Ukraine. The specificity of innovative economy and their effect on local labor market and employment are considered in the article. Transformation of labor contents and character, gradual transition from functioning to project activity requires shaping a set of new skills peculiar to labor force as well as universal employee formation who is capable to fulfill both production and organizational duties, be engaged in projects and, correspondingly, who possesses creative abilities and thinking a new way while estimating production processes concerning their interdisciplinary and intercultural links. Based on monitoring examination of labor force skills matching to workplaces requirements the following future skills are shaped: design mindset, systems, project, computational, novel and adaptive thinking, transdisciplinarity, cognitive load management, virtual collaboration, inter-sector communication, project management, programming IT solutions, service orientation, multilingual and multicultural abilities, coordinating with others, artistic skills, ability to work under uncertainty. Prospective future jobs which need above-mentioned skills are analyzed.
Завантаження
Дані завантаження ще не доступні.
Посилання
Davies, A., Fidler, D., & Gorbis, M. (2011). Future Work Skills 2020. December 22, 2011. http://www.iftf.org/uploads/media/SR1382A_UPRI_future_work_ skills_sm.pdfm.
Forbes Ukraine. Observe the distance: a third Ukrainian company employees working remotely. March 1, 2016. http://forbes.net.ua/ua/business/1411959-dotrimujsya-distanciyi-tretina-pracivnikiv-ukrayinskih-kompanij-pracyue-viddaleno (in Ukrainian).
Global Workplace Analytics. (2016). http://globalworkplaceanalytics.com/
Ilich, L. (2016). Evaluation of Matching Skills and Jobs. International Relations 2016. Current issues of world economy and politics. Conference proceedings 17th International Scientific Conference Smolenice Castle, 475-481. Bratislava: University of Economics in Bratislava.
Information and Analytical Portal Humanitarian Technologies. (2009). Report of the Economist Intelligence Unit "Stability Among Storms. Comparative analysis of the competitiveness of the IT industry 2009". September 20, 2009. http://gtmarket.ru/files/research/Benchmarking-IT-Industry-Competitiveness-2009.pdf (in Russian).
Kelli, T., Ljaplina, A., Tan,S., & Uinkler, J. (2017). Reaping Digital Dividends: Leveraging the Internet for Development in Europe and Central Asia. March 7, 2017. http://www.worldbank.org/en/region/eca/publication/digital-dividends-in-eca.
Microsoft Ukraine. (2008). Piracy Bulletin 2008. http://www.google.com.ua/url?sa=t&rct=j&q=&esrc=s&source=web&cd=2&ved=0ahUKEwj3oaGL1J3UAhVBHCwKHRo2B-kQFggnMAE&url=http%3A%2F%2Fmsdb-downloads.azurewebsites.net%2FAntipiracy%2FPartner_Bulletin_February-March_2008.doc&usg=AFQjCNFCtFgZ-1sQbTbLCrgP29Z4JiUrSg&sig2=hQZ_l8A-iIw28_j8PSB5Hw&cad=rjt. (in Ukrainian).
Official Web Portal Ukraine Parlament. (2012). Recommendations of parliamentary hearings on the topic "Ukraine Create a favorable environment for the development of the software industry". March 15, 2012. http://zakon3.rada.gov.ua/laws/show/4538-17 (in Ukrainian).
Scolkovo. (2013). Atlas of emerging jobs. May 14, 2017. http://atlas100.ru/en.
The World Bank. (2016). World Development Report 2016 "Digital Dividends". May 17, 2016. http://documents.worldbank.org/curated/en/ 224721467988878739/pdf/102724-WDR-WDR2016Overview-RUSSIAN-WebRes-Box-394840B-OUO-9.pdf (in Russian).
World Economic Forum. (2012). The Global Information Technology Report 2012. http://reports.weforum.org/global-information-technology-2012/#=&section=chapter-1-1.
World Economic Forum. (2015). The Global Information Technology Report 2015. http://reports.weforum.org/global-information-technology-report-2015/economies/#indexId=NRI&economy=UKR.
World Economic Forum. (2016). The Global Information Technology Report 2016. http://reports.weforum.org/global-information-technology-report-2016/economies/#indexId=NRI&economy=UKR.
World Economic Forum. (2016-2017). The Global Competitiveness Report 2016–2017. http://www.weforum.оrg.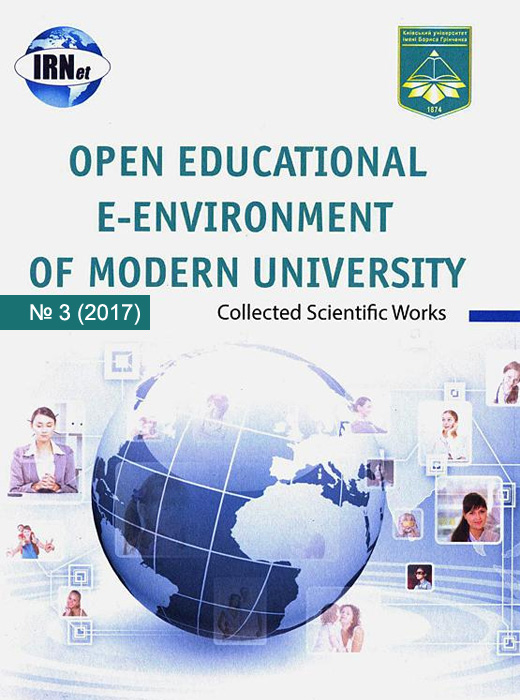 Переглядів анотації: 474 Завантажень PDF: 218
Як цитувати
Ilich, L., & Akilina, O. (2017). IMPACT OF ICT ON LABOR MARKET DEVELOPMENT: MAIN TRENDS AND PROSPECTIVES. Електронне наукове фахове видання "ВІДКРИТЕ ОСВІТНЄ Е-СЕРЕДОВИЩЕ СУЧАСНОГО УНІВЕРСИТЕТУ", (3), 55-68. вилучено із https://openedu.kubg.edu.ua/journal/index.php/openedu/article/view/69
Розділ
Open educational e-environment of modern university